TBM 18/53: Blank Slates, Seedlings, Freight Trains, and Gardening
Here is a simple activity you can do with your team. I've tried it about a dozen times now with good results.
The basic idea is to use common (but salient) objects, activities, and ideas to spark a conversation. I have given a couple examples below, but you could easily come up with your own. Importantly, don't pick things that are only positive, or only negative.
For each item, I have provided some example tensions and alternative explanations. I have also given some question examples. Over time you can evolve your own. If you are feeling adventurous, bring pictures and/or draw the objects.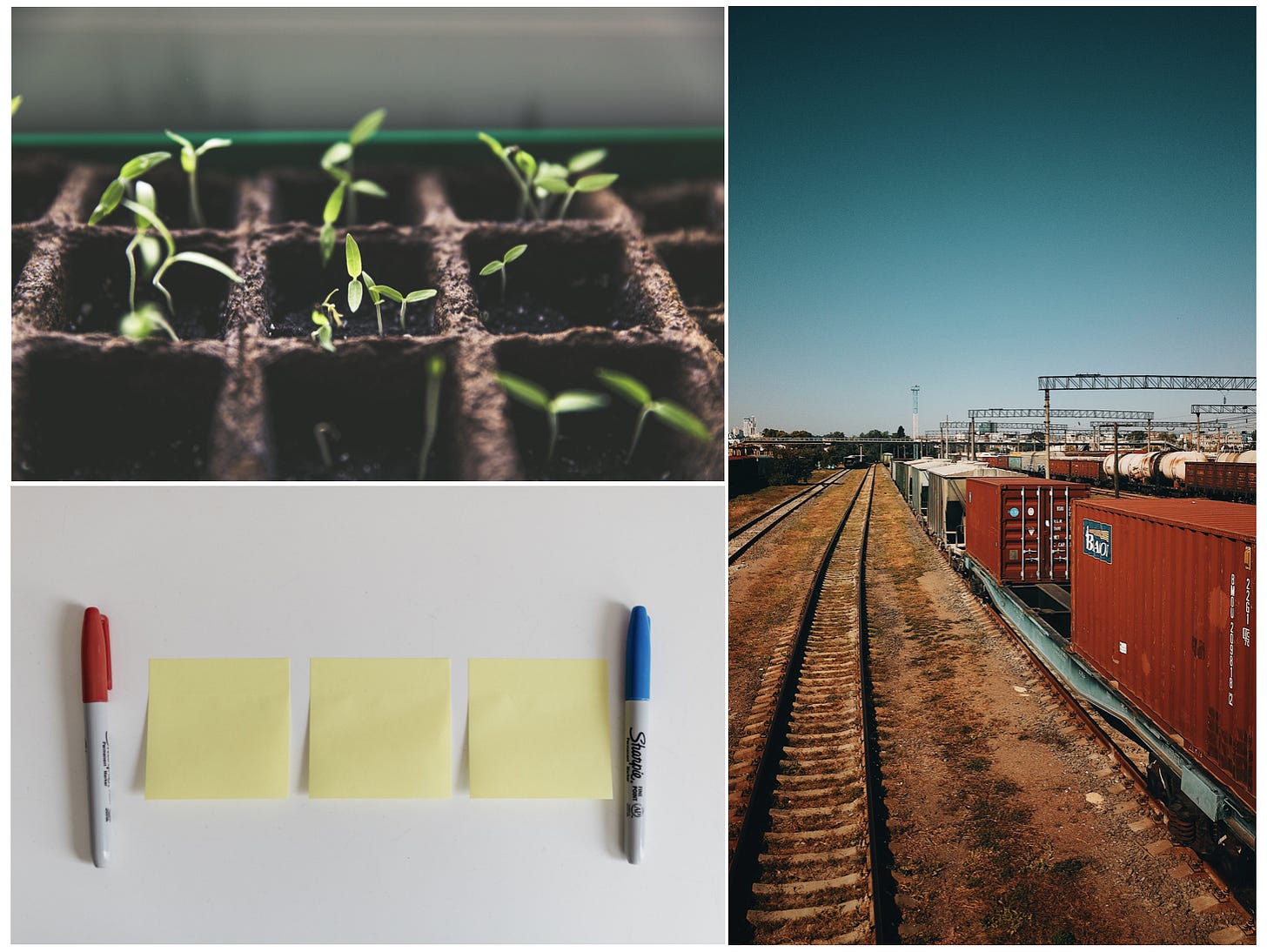 Blank Slates
Starting over. The blank page.
A chance to "start over knowing what we know now"

Feel exhilarating and fun, and intimidating and disconcerting

Involve loss. Involve leaving behind the "old thing"

Sometimes involve leaving people and places behind

An opportunity to work in new, unconstrained ways

Could involve discounting prior work. Not honoring the past

Easier than working with the good in the status quo
Where do we feel the urge to start over? Why?
Where have we started over recently? Why?
What did it feel like to start over?
---
Walls
Support and divide.
Space to focus. Prevent distractions

Contribute to structural integrity. Safety

Some feel naturally placed. Some feel awkward, artificial

Can emerge through repeat passage and erosion

Restrict flow of information, access

Might need "doors and windows"
Where do walls divide us, but are necessary?
Where have walls just appeared?
Which walls should we strengthen? Bring down?
What keeps certain walls in place?
Examples of things that are walls to some, and doors to others?
---
Seedlings
Protect and nurture.
Need protection. Fragile. Need water

Will hopefully grow into something bigger and stronger

Not all will thrive. Need to pick and chose

Doesn't "pay off" immediately. Is not fruit/flower-bearing yet
What efforts must we protect?
Are we doing a good job of protecting those things? Do they get a chance?
Do we have enough seedlings planted?
How do we balance caring, and moving on?
When does a seedling graduate?
---
Freight Trains
Not if, but when. But why?
Have lots of inertia. Heavy. Lots of momentum

Capable of scale and "moving stuff"

Run "on rails". Travel predetermined routes

Repetitive, known approaches, efficient, transactional

We may not question why the exist. Run "just because"
What are our freight trains?
Where do they serve us?
Where do they run without us questioning their value?
---
Gardening
Weeding and pruning.
Required for sustainable growth and health

Easy to overlook and get reprioritized

Easy to get obsessed with gardening. Don't want to "over-garden"

Less flashy. Improvements are less visible

Makes other things possible
Where must we do more gardening?
How can we do the right amount of gardening?
What does gardening make possible?